Water Cooled Industrial Chiller
Water Cooled Industrial Chiller
As the best China Water Cooled Industrial Chiller supplier, provides quality Water Cooled Industrial Chiller to global clients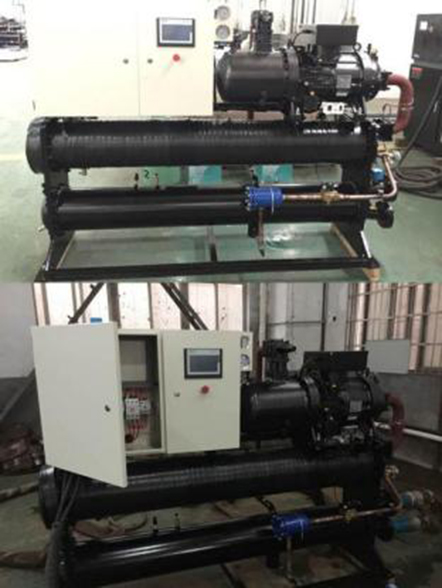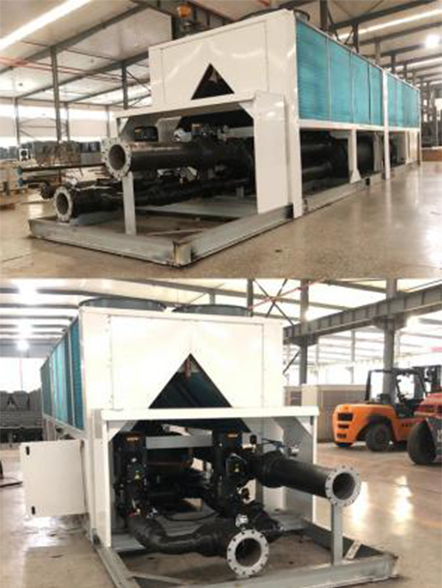 Country: Malaysia
Chiller type: water cooled
Cooling capacity: 175kW
Cooling medium: R22
Supply power: 3P-380V-50Hz
Compressor brand: COPELAND
Compressor type: screw
Water inlet tem.:12℃
Water outlet tem.: 7℃
Country: UAE
Chiller type: air cooled
Cooling capacity: 1100kW
Cooling medium: R134a
Supply power:3P-415V-50Hz
PLC controller
Water inlet tem.:12℃
Water outlet tem.: 7℃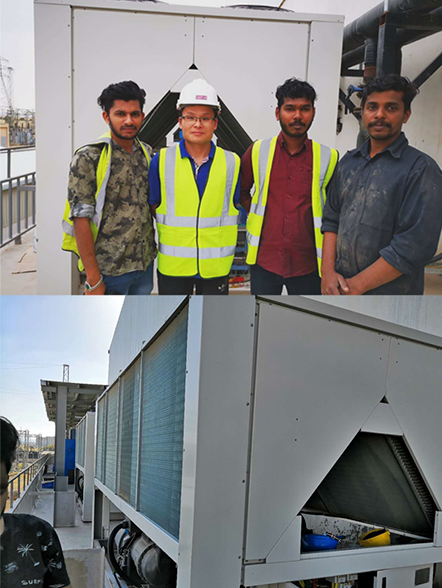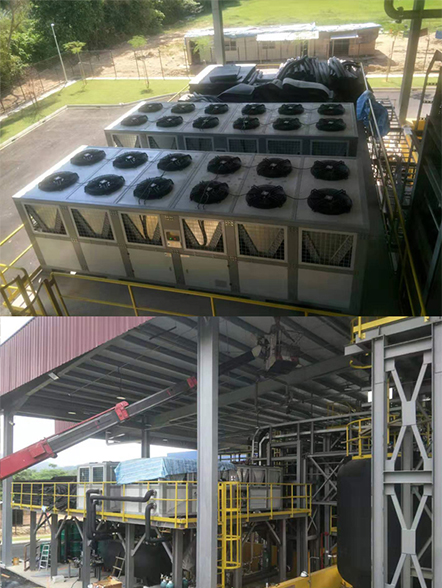 Country: Jordan
Chiller type: air cooled
Cooling capacity: 507kW
Cooling medium: R134a
Supply power: 3P-380V-50Hz
Compressor brand: Fusheng
Compressor type: screw
Water inlet tem.:12℃
Water outlet tem.: 7℃
Country: Malaysia
Chiller type: air cooled
Cooling capacity: 116kW
Cooling medium: R404A
Water inlet tem.: -20℃
Water inlet tem.: -25℃
Supply power:3P-400V-50Hz
Compressor brand: Bitzer
Compressor type:screw
50% glycol antifreeze
High/Low pressure protection for the compressor and overheating protection inside the machine.
Low water level alarm and low temperature alarm.
Imported compressor from Europe,US and Japan.
Refrigerating system welded with oxygen free method, to reduce oxides and ensure the smooth surface.
Throttle components from Danfosss(Denmark) and Alco(US).
Stainless plate, coil, shell, and tube or fin type efficient heat exchanger.ak.
SUS304 stainless steel water tank, to avoid corrosion or water leak.
RS485 communication function, to realize automatic management(optional).
Electrical devices supplied from OMRON, FUJI.TE,LG,MOELLER and SCHNEIDER.
Control mode:imported micro-computer or PLC(optional)
Highly efficient evaporator and conderser, to save over 30% energy.
Perfect safety protection, failure display, and not requiring professional personel for maintenance
2 compressor heads for over SJ-10WD, for individual or joint operation



model

parameter

SJ-

03WS

SJ-

04WS

SJ-

05WS

SJ-

06WS

SJ-

08WD

SJ-

10WD

SJ-

12WD

SJ-

15WD

Cooling capacity

KW(50HZ)

9.34

12.4

16.1

19

24.8

32.2

38

49.1

Kcal/h

8032

10664

13846

16340

21328

27370

32680

42226

motor input

KW

3.2

3.68

4.21

4.51

7.36

8.42

9.02

11.56

Maximum Current

A

6.07

6.75

9.8

10.5

13.5

19.6

21

24

Power Supply

3N 380V/415V 50HZ

Refrigerant

Name

R22

Charge(KG)

1.7

2.2

2.8

3.4

2.2*2

2.8*2

3.4*2

4.2*2

Control Type

Capillary Tube/External Balanced Thermostatic Expansion Valve

Compressor

Type

Hermetic Scroll or Piston

Motor(KW)

2.81

3.31

3.46

3.76

3.31*2

3.46*2

3.76*2

3.46+6.6

Cooling Water

Flow(m3/h)

2.1

3.2

4.1

4.8

6.4

8.2

9.6

11.9

In/Out Pipe Size

G1"

G1"

G1"

G1"

G1-1/2"

G2"

G2"

G2"

Flow(m3/h)

1.65

2.14

2.8

3.3

4.3

5.6

6.6

8.5

Tank(m3)

0.038

0.038

0.065

0.08

0.188

0.188

0.188

0.285

Chilled Water

In/Out Pipe Size

G3/4"

G3/4"

G1"

G1"

G1-1/2"

G2"

G2"

G2"

Water Pump

Motor(KW)

0.375

0.375

0.75

0.75

0.75

1.5

1.5

1.5

Pressure(Kpa)

242

242

290

290

290

205

205

205

Size

Length(mm)

830

830

1080

1080

1300

1300

1300

1680

Width(mm)

460

460

580

580

610

610

710

775

Height(mm)

1020

1020

1230

1230

1445

1445

1445

1480

Weight(KG)

KG

120

140

150

200

210

290

310

400
Cooling capacity reference: inlet 15℃ cold water, outlet 10℃ cold water, inlet air temperature 35℃.
We reserve the right to make changes to the above specification without notification.
The application of industry carbon fibre moulded plastic injection molding, hot and cold forming, chemical reaction kettle, rubber extrusion, calendering, mixer, vulcanization molding machine, polyurethane form, printing roller, textile, printing and dyeing, drying, hot press molding, auto parts and cooling pipe high and low temperature testing .